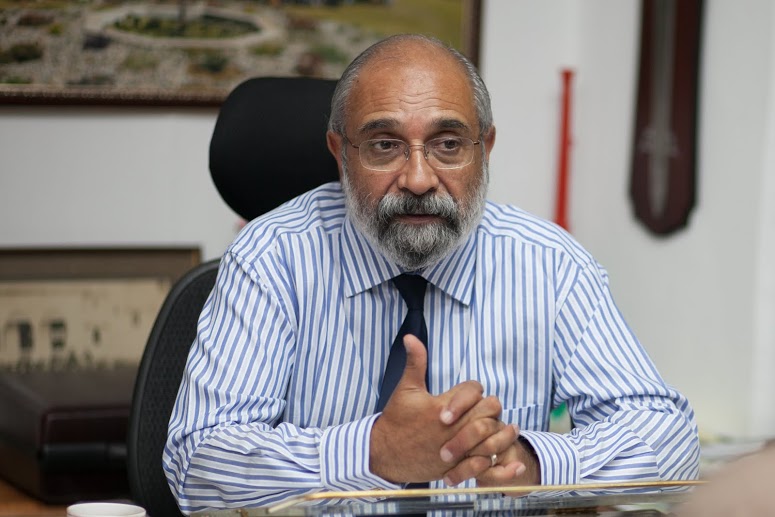 CHAIRMAN: DR SUMER SINGH
DR. SUMER SINGH IS AN ALUMNI OF THE DOON SCHOOL  AND ST. STEPHENS COLLEGE. HE WAS THE HEAD OF LAWRENCE SCHOOL, SANAWAR, FOR SEVEN YEARS AND SERVED AS THE DIRECTOR OF THE ASIAN SCHOOL, DEHRADUN. HE HAS TAUGHT AT THE DOON SCHOOL, AT GORDONSTOUN, SCOTLAND, AT BOXHILL AND WINDERMERE ST. ANNE'S IN ENGLAND AND IN UWC, WALES. HE HAS ALSO SERVED AS THE CHAIRMAN OF A MARKETING COOPERATIVE SOCIETY FOR 100 VILLAGES; AS VICE PRESIDENT OF SUTRA, AN NGO WITH 40,000 WOMEN AS MEMBERS; AS ADVISOR EDUCATION AT THE RANK OF SECRETARY IN THE PUNJAB GOVERNMENT; AS VICE PRESIDENT IN HIMACHAL PRADESH OF STATE FEDERATION FOR SWIMMING, TENNIS, SQUASH, SHOOTING & CRICKET AND AS A DIRECTOR OF INDORE MANAGEMENT ASSOCIATION. HE HAS DESIGNED A NUMBER OF SCHOOLS INCLUDING PATHWAYS WORLD SCHOOL, DOON GIRLS AND SANSKAR VALLEY. HE IS ALSO SERVING ON THE GOVERNING BODY OF MAYO COLLEGE & MAYO GIRL'S.
HE HAS BEEN ELECTED THE CHAIRMAN OF IPSC FOR TWO YEARS IN JANUARY 2014, TRUSTEE OF THE ROUND SQUARE BOARD IN LONDON, ON THE ADVISORY EXECUTIVE OF HM KING CONSTANTINE AND IS A MEMBER OF G 20 AND THE GLOBAL CONNECTIONS, AND ON THE ADVISORY BOARD OF AFS.
IN 2013, HE WAS CONFERRED A DOCTORATE OF LITERATURE IN EDUCATION BY DE MONTFORT UNIVERSITY, ENGLAND AND WAS FELICITATED BY THE EDUCATION WORLD FOR HIS OUTSTANDING CONTRIBUTION TO THE FIELD OF EDUCATION.
DETAILED ACCOMPLISHMENTS: DR SUMER SINGH
CURRENTLY:
CHAIRMAN, ETHICAL EDUCATION MANAGERS
PARTNER, EDUCATION SALAD, CONSULTANT & SCHOOL DESIGNER
ADVISOR, SANSKAAR VALLEY SCHOOL, (DAINIK BHASKAR GROUP)
DIRECTOR, INDORE MANAGEMENT ASSOCIATION
DIRECTOR, INFOBEANS TECHNOLOGIES LIMITED, INDORE
MEMBER G-20, USA
BOARD MEMBER, GLOBAL CONNECTIONS, BEIJING, CHINA
BOARD MEMBER, AFS INDIA
BOARD MEMBER, MAYO COLLEGE & MAYO GIRLS SCHOOL, AJMER, RAJASTHAN
ADVISOR, INDORE CANCER FOUNDATION
FORMERLY:
DIRECTOR & PRINCIPAL, DALY COLLEGE, INDORE
DIRECTOR, DALY COLLEGE BUSINESS SCHOOL, INDORE
PRINCIPAL, LAWRENCE SCHOOL, SANAWAR, HIMACHAL PRADESH
DIRECTOR, ASIAN SCHOOL, DEHRADUN
BOARD MEMBER, LAWRENCE SCHOOL, LOVEDALE, OOTY
BOARD MEMBER, MAYO COLLEGE, AJMER
BOARD MEMBER, MAYO COLLEGE GIRLS' SCHOOL, AJMER
CHAIRMAN, INDIAN PUBLIC SCHOOLS CONFERENCE (IPSC)
ADVISOR (EDUCATION), GOVERNMENT OF PUNJAB
EXECUTIVE MEMBER & TRUSTEE, ROUND SQUARE, UK
HEAD OF SUMER SINGH & ASSOCIATES- CONSULTANT & SCHOOL DESIGNER- DESIGNED SCHOOLS INCLUDING PATHWAYS WORLD SCHOOL, SOHNA, (GURGAON), DOON GIRLS (DEHRADUN) & SANSKAR VALLEY SCHOOL (BHOPAL)
CHAIRMAN, NURPURBEDI MARKETING CUM PROCESSING COOPERATIVE SOCIETY
VICE PRESIDENT OF VARIOUS STATE SPORTS ASSOCIATIONS, H.P.
VICE PRESIDENT SUTRA (SOCIETY FOR SOCIAL UPLIFT THROUGH RURAL ACTION)
MEMBER NAINA DEVI DEVELOPMENT COMMITTEE
MEMBER KANDI AREAS DEVELOPMENT BOARD, PUNJAB
MEMBER, REGIONAL DIRECT TAX ADVISORY COMMITTEE
DR SUMER SINGH : TALK SHOW : 60 MINUTE 2 IMPACT
<
VIDEO: WATCH DR SUMER SINGH